WhatsApp Spy - Record WhatsApp activity on Android phone
WhatsApp enjoys extensive support from over 2 billion users worldwide, which implies that your child or employee might be using it for texts, multimedia and calls. Even with end-to-end encryption, WhatsApp is still prone to various security threats that could lead to information leakage on your kids' or employees' devices. However, using hidden WhatsApp tracker, you'll be able to record WhatsApp activity on any mobile phone and encourage safe instant messaging behavior.
Find out what they're saying on WhatsApp
There is a growing trend of cyberbullying, sexual predators and scammers on WhatsApp. A spy app for WhatsApp could help parents take care of them. You can keep an eye on kids' WhatsApp activity to keep them safe.
The same goes for you to view your partner's WhatsApp messages. Learning about their life will create understanding in your relationship. It's also a tool to confront manipulation, because you will be ready for anything.
If you're an employer, you can check your employee's WhatsApp use to ensure they are working properly. You may be able to spot disloyal employees who are leaking confidential information.
How to view WhatsApp chat history online?
Monitoring someone's WhatsApp messages is not difficult with Chamspy Pro. It's a comprehensive tool for tracking phone activities. With the aid of this cell phone tracker, you'll be able to protect your loved ones, manage your employees and identify any potential dangers. Many useful functions and features come with this application:
Read all sent and received messages
View deleted WhatsApp chat
Access the timestamp of every conversation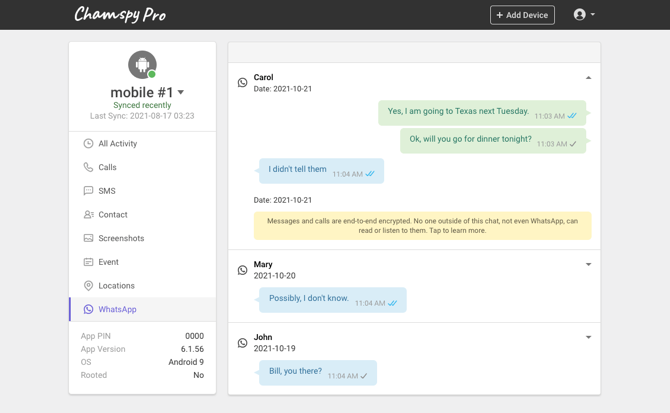 All chats on WhatsApp will be uploaded to your online dashboard. The conversations are arranged in reverse chronological order. Every message is accompanied by a timestamp, so you can tell exactly when a chat began or ended.
To access the above benefits, you just need to create your Chamspy Pro account and install the spy software to the Android device. Once the process is completed, you can remotely check WhatsApp chat. No technical background or special skill is needed.
Why you need to choose this WhatsApp spy app?
Not every WhatsApp spy app are created equal. If you feel the need to check WhatsApp chat history and couldn't find a solution for that, it's time that you finally put your trust into Chamspy Pro.
Spy cell phone without root
There is no need to root the target device in order to use WhatsApp spy. Chamspy Pro solution works with stock Android device.
Work in stealth mode
This application runs in the background and you won't be detected. Nobody will know that you're monitoring the messages on WhatsApp.
WhatsApp spy online from anywhere
Spy WhatsApp messages from anywhere using a computer or your smartphone. Chamspy Pro even comes with a "Dashboard App" that can be downloaded on Android device. You also can view all the activity on the web dashboard.
Is cell phone spy app legal?
It is legal to use Android spy app if being used to track a minor's phone activity or to track your own phone. But if you want to install such apps in another individual's device, it's better to get their prior consent.