Phone Call Recorder - Record and Save All Phone Calls
Does your child's calling behavior concern you? Do you have any idea that who your partner is talking with? Are you suspecting your employee is making phone calls with rivals? If that causes you significant concern, it's best to discover what people talk about behind their back without getting into suspicion.
How to record phone calls on Android device?
Knowing who your loved ones are talking about can confirm your suspicions or put your mind at ease. A phone call recorder such as Chamspy Pro shows you a detailed list of all incoming calls, outgoing calls, and duration of those calls. Even more, you'll be able to track recorded calls remotely.
All the recorded phone calls are uploaded to your online account from where they can be accessed and listened to as many times as you want.It's a great idea to download the recording calls when you find something appropriate and you want the proof to be locally saved on your device.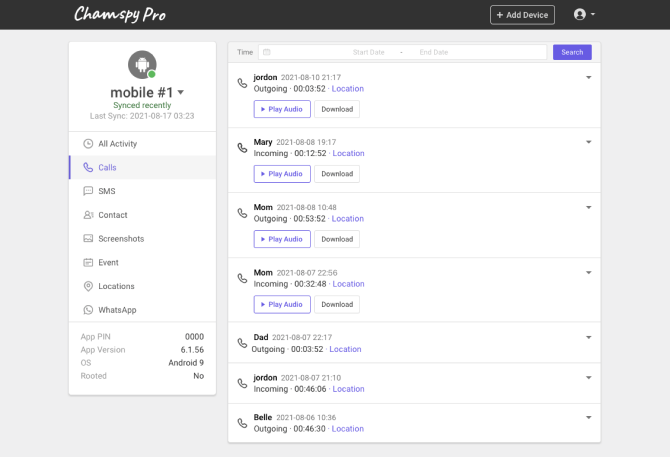 When listening to the phone calls, you don't need to wonder who's the other person behind the call. The name and number of contact is easily accessible via your online account. It's more than a simple application for tracking phone calls. It makes it possible to record calls without the other person knowing as the app works in stealth mode.
All it takes to track or record phone calls is just a few steps. You just need to install the Chamspy Pro and grant certain permissions.Then log into your online account and start call recording.
Why choose Chamspy Pro call recorder software?
Phone call recording helps you find out what type of conversation your child has with others. If your child is spending too much time on calls, you might want to know what they are up to. Online predators or scammers too often use phone calls entice kids into a personal conversation. However, phone call recorder can give you peace of mind by listening to your child's phone conversation if you are concerned they are in danger.
Spy app also reveals telephonic communication of employees using work phones. If you find out charges on work phones bills that have nothing to do with your business expense, phone calls can give you an answer.Also, some employees may leak confidential information using company-provided cell phones, and that too by making phone calls.Chamspy Pro solution can help to reveal the truth.
This call recording feature also helps you track, record and save important business or personal conversations for later use for yourself. You no longer have to worry about forgetting important information from a conference call. If there is a verbal agreement made over the phone, you'll have proof if the other party backs out.
Can I download the recorded phone calls?
Yes, you can download or save all the recorded phone calls to an off-site location with just a click on your online dashboard.
Do I need to root the device to use phone call recorder?
You don't need to root or jailbreak the device. Chamspy Pro makes it easier to get complete control over target phone and record phone calls.