Geofence Alert - Stay Notified About Any Moves All The Time
Younger kids are active in adventurous activities and not willing to tell parents everything. The places parents want to prevent them from visiting hold more temptation for them. Henceforth, creating safe zones is a must-have in the unpredictable world. It helps ease parents' concern and keep children safe.
What is geofence?
A geofence is an virtual border drawn around a point by GPS tracking system. With iPhone geofencing, you can set an invisible fence around any area you want on a map. If the person enters or leaves the virtual fence you've set, you'll get notification.
How Chamspy Pro geofence alert work?
If you're looking for a iPhone geofencing solution, Chamspy Pro can be the best bet. It works by leveraging the GPS that's built into the smartphone. It's well-designed to provide you with best smartphone monitoring experience that exists to date. With Chamspy Pro solution, you can stay updated about the monitored activity from target devices in time.
You can create geofences like school, home, office, nearby pubs around specific locations. When kids break planned routines, you can get instant alerts. It offers an easy way to keep your loved ones out of trouble and make sure they're safe. Highlights include:
Set an unlimited number of safe and forbidden zones
Receive notification about each entrance and exit
Monitor when each zone is visited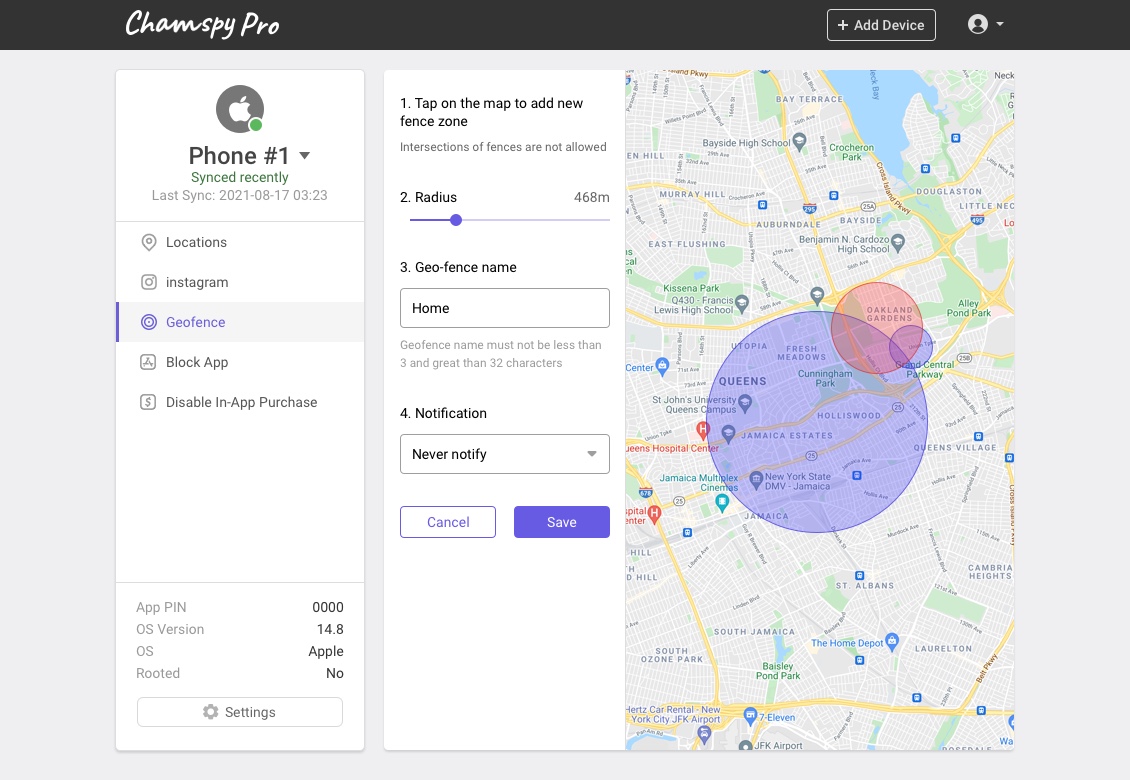 You don't have to spend time or energy to check in with a text or a quick phone call. Once the person crosses the boundary, you'll get notified. It also contains capabilities including live location tracking, app blocker, in-app purchase blocker, and much more.
To get up and running with this powerful iPhone geofencing apps on the market, simply create your Chamspy Pro account for free, check the install instruction and get going.
Which devices are compatible with Chamspy Pro?
Chamspy Pro works with almost all modern Android and iOS devices. There is no need to root or jailbreak the device to use geofence feature. It sends instant alerts as soon as a "watchlisted" location is detected on the monitored device.
What can you do with geofence alert?
Geofence alert feature is all about the right timing. If your child loves to hang out at friends' houses and bounce from party to party on late night, you might want to make sure they aren't walking into a location that's not suitable for their age. With a geofencing app in your corner, you can get alert and get to your child in time.
If you employ Chamspy Pro as an employee monitoring too, you can stay updated about your employee's location. You can create a geofence around your premises and get notified when your employees sneak off somewhere during working hours.