Snapchat Spy - Monitor Someone's Snapchat Activity
As a popular messaging app, Snapchat differentiates itself from other platforms is its "burn after reading" feature. Every message sent and received from one device to another vanishes into thin air. This makes it widely popular among children, young and teens. But if you want to get the upper hand and keep an eye on Snapchat activity, all it takes is one spy app. It's perfect solution to monitor someone's activity on social media sites and identify potential risks.
3 Reasons to spy on someone's Snapchat activity
Snapchat allows users to exchange pictures and information over there. It's one of a kind to introduce the stories features. Unconsciously, it also invites several online threats and much attention should be paid to this platform. That's why a Snapchat tracker should be set in place.
Keep kids safe online

Cyberbullies, sexual predators, and cyberstalkers lurk on this popular social media platform, keeping an eye on the vulnerable children. It's easier to target them since they are comparatively weaker than the adults. To prevent children from these online threats, it's important for children to configure a Snapchat spy app. All Snapchat conversations will be right at your fingertips and it can help you identify a problem and stop it from getting worse.

Increase employee productivity

A Snapchat spy app can increase a businessman's ability to make the right decisions. For instance, if your employees are slacking at work or share secret information, you can learn about it. It is also a great way to remind your employees about discipline and productivity.

Catch cheating partner

Similarly, if you notice that your loved one has changes his/her behavior, it's better to know the truth and see if your partner is being honest with you. You'll know who and what your partner is talking.
The best Snapchat tracker to track someone's activity
When you search for Snapchat spy app online, you will come across several options on the browser. The majority of Snapchat tracker you'll come across are bogus and do not deliver guaranteed results. Instead of wasting time and sharing your personal information, it's better to choose Chamspy Pro.
This Android spy app delivers on its promise to bring you the Snapchat information you really want. It is currently available for Android mobile devices. With this solution, you'll be able to:
Read all text messages
Check the timestamp of each conversation
Take screenshots
Work in stealth mode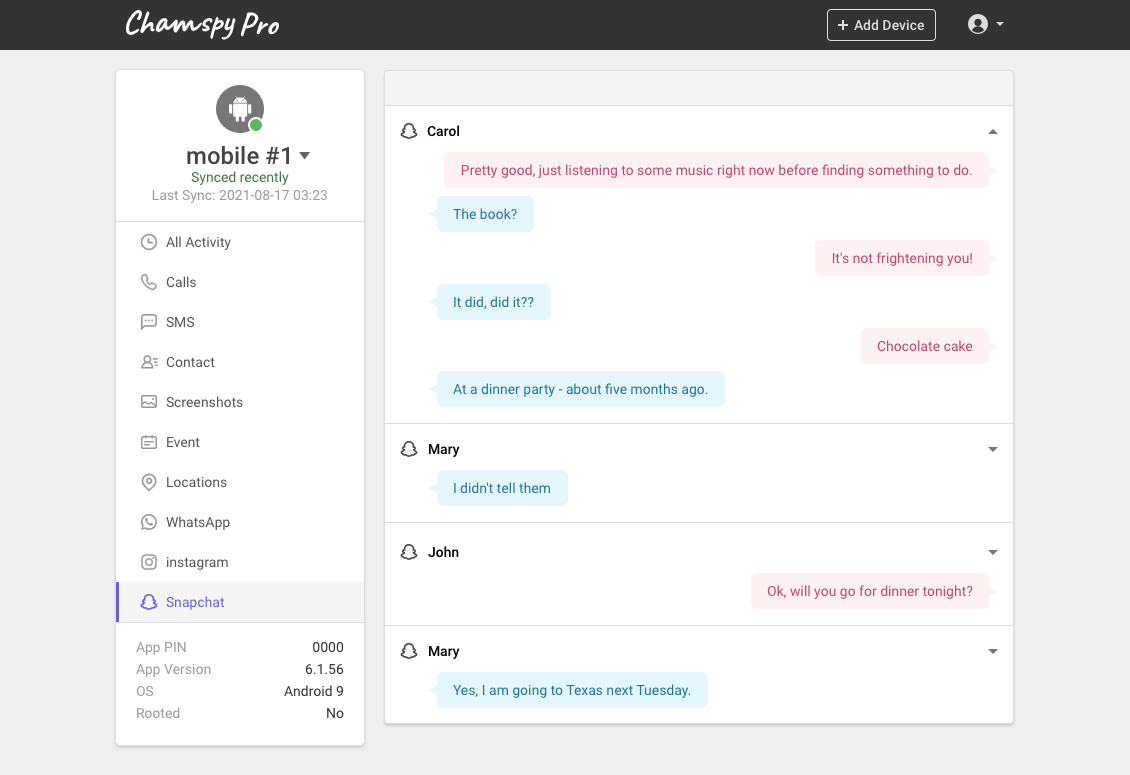 All text conversations will be available for you to view in your account. You don't have to worry about messages that have been deleted after 10 seconds of being viewed. Chamspy Pro application lets you access to these messages too. You also can know the people behind the chats that are taking place on your child's device.
The Snapchat monitoring is done discreetly, and the obtained messages are uploaded to your account. It will be invisible to the phone owner and there is no need to root the device. You can access them at any time you wish in the "Snapchat" section.
Can I monitor child's Snapchat without them knowing?
Yes, you can enable stealth mode during the process of installation. Once done, you can monitor someone's Snapchat without them knowing. Then log into your dashboard to access all information.
Can I recover deleted Snapchat messages?
Our Snapchat tracker records the messages deleted after the installation of the Chamspy Pro app. It cannot log the messages deleted before the installation.
Do I need to root the target device?
No, Chamspy Pro works fully on non-rooted Android phones. Simply create your account and install the software on target device. Then log into your account and view the activity.