Skype Spy App - Necessary for Parents and Employees
Skype application is still a popular online communication tool used for office work and home use. Its good compatibility makes it accessible to more people. If you're a parent, you may be concerned whom your children or teenagers are chatting with. While business owners need to ensure your employees are not communicating with competitors, or spending office hours on personal conversation. Monitoring Skype messages can be an effective way in protecting your child's safety and business privacy. Find out what they're talking about in Skype with spy app!
How to spy Skype messages and conversations?
The best way to know the truth behind the screen is to get access to all conversations taking place on the monitored device. This is where our smart Skype spy software comes in handy. It will keep you fully informed of what exactly is going on with your kids or employees.
It's one of the most reliable apps that can gather comprehensive information from another device. You just need to create an account and install Chamspy Pro on target device. Featured provided by Skype monitoring tool:
View all Skype chat conversation
Find out the contacts behind the chats
Get time and date stamps to know when each chat took place
Identify problem conversations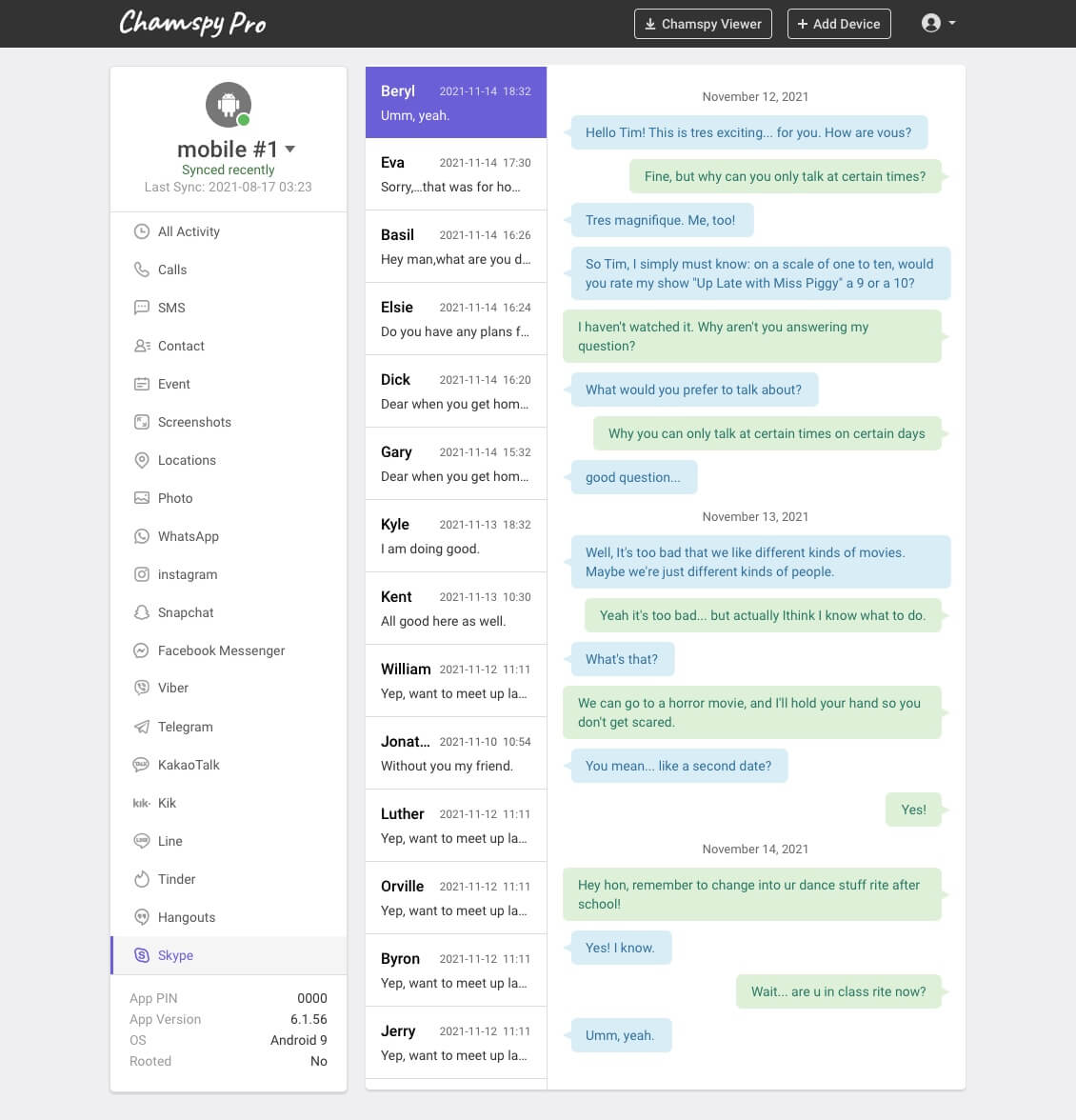 Once installed, you can access the dashboard and examine every monitored activity. This Android spy app allows you to quickly spot any suspicious conversation and stop any potential problems before they might occur. You also can keep an eye on inappropriate contacts and unwanted people.
When will you find this feature useful?
Skype monitoring has become the current need since its usage in the offices and for personal activities. Chances are that your employees use it on a daily basis to send work files and confidential documents. You may also be concerned about your employees using Skype to chat with their friends during office hours. If you can track the Skype conversations, you can make sure they are working properly.
The same goes for you to track your budding pre-teen or teenager. People with malicious intention can use Skype platform to pry on the innocent of your child. Or your child may join a group that may be of negative influence on their character. It's important for parents to monitor teens' Skype chats and keep everything under control.
Is Chamspy Pro tracking app hidden?
Yes, the Skype tracking software is a hidden and undetectable monitoring solution. It allows you to monitor Skype chats and text messages without their knowledge. It can hide its app icon on the target smartphone.
Can you recover deleted Skype messages?
Yes, Chamspy pro records the Skype messages deleted after the installation of the spy app. It cannot log the messages deleted before the installation.
Spying on Skype chats without rooting target phone.
You are allowed to spy on Skype software without rooting the target Android phone. It means that Skype spy app works without changes to the target device operating system.