Phone Activity Recorder - Remotely Take Screenshots on Android
Android enables you to take a screenshot without additional application. However, those who want to delve into kids' real-time mobile activity remotely and secretly must install the special screenshot tracker by Chamspy Pro. It can tell you what your kids or employees are up to on their cell phones.
Choose the best hidden screen recorder
Not all screenshot trackers are created equal. Some can be detected by the person you happen to be recording. If you're trying to supervise your child with a secret screen recorder for Android, the last thing you want them to do is actually know about it. That's why it's essential to get a hidden screen recorder instead of one that lets them know you're monitoring their cell phone activity.
The cell phone tracker Chamspy Pro is ready to save every screenshot you need. It captures the same images the users sees when he/she is working with the phone. This application creates such images periodically when users do something with their phones. It comes with many useful features that one needs to spy on another phone:
Access saved screenshots from the control panel
View date and timestamps for every screenshot
Check the type of screenshot and the program where it was located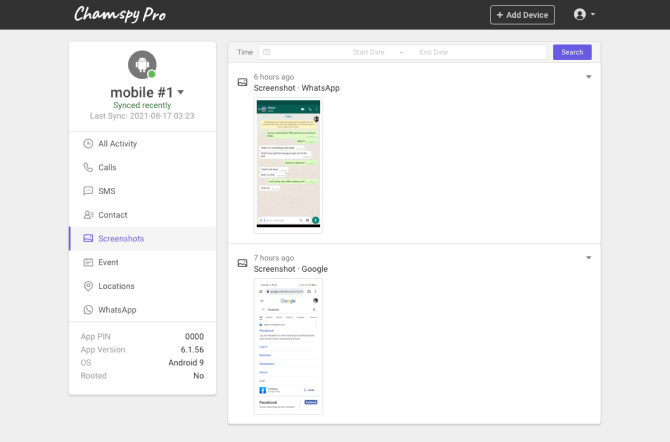 All images are saved in a special user panel, which is invisible on target device. You can access to all information by logging into your personal dashboard. It allows you to look through these pictures for 30 days. After a month they're automatically deleted, but you can save them to your drive and get unlimited access whenever you want.
How to take screenshots on Android?
A screen recorder such as Chamspy Pro lets you know more about what your child or employee is doing or up to. Getting started with the best hidden phone tracker is a few simple steps. All you need to do is create an account, download and install the cell phone tracking app on target device. Then log into your control panel whenever you want to access their screenshots. There's no fiddling around needed and no complex hoops to jump through every time you want to review their screenshots.
Why you need a Android screenshot monitoring software?
Everybody knows that smartphones are often used for internet surfing.It brings online threats such as cyberbullying, infidelity, information leakage as well. Even if you are watchful of your kids' online habits, there are some activities that could go unnoticed, especially when they are out of your sight.
Chamspy Pro is one of the best Android monitoring software that can help find out the truth. It gives you the information you need to address the situation with your loved ones, whatever it might be. It's helpful for parents, businessmen, people in relationship and anyone else. You'll be able to:
Stay on the top of your kids' cell phone activities;
Find out if your partner is cheating on you;
Ensure your employee is not leaking confidential or insider information.