Hangouts Tracker - Spy on Google Hangouts Chat History
As a popular instant messaging app, Google Hangouts allows users to engage in online conversations. In particular, young teens are second to none in spending time on it. However, many secrets and potential dangers may also be hidden in Hangouts chats. They can get involved in inappropriate activities like dating online, sexting and interacting with strangers. The good news is that you can use a Hangouts monitoring software to keep tabs on your kids and know what's going on in their life.
How to spy someone's Hangouts chat history?
If you want to spy on someone's Hangouts messages, Chamspy Pro can do you a great favor. By taking the assistance of this Hangouts spy app for Android, you can monitor the logs of every activity target person has done on instant messaging application. You can be sure they are not sending anything that could put them in harm. Key features of Chamspy Pro are as follows:
Read every sent and received messages
See their group chats and conversation
Access deleted messages
View crucial Hangouts data
See captured screenshots of chat history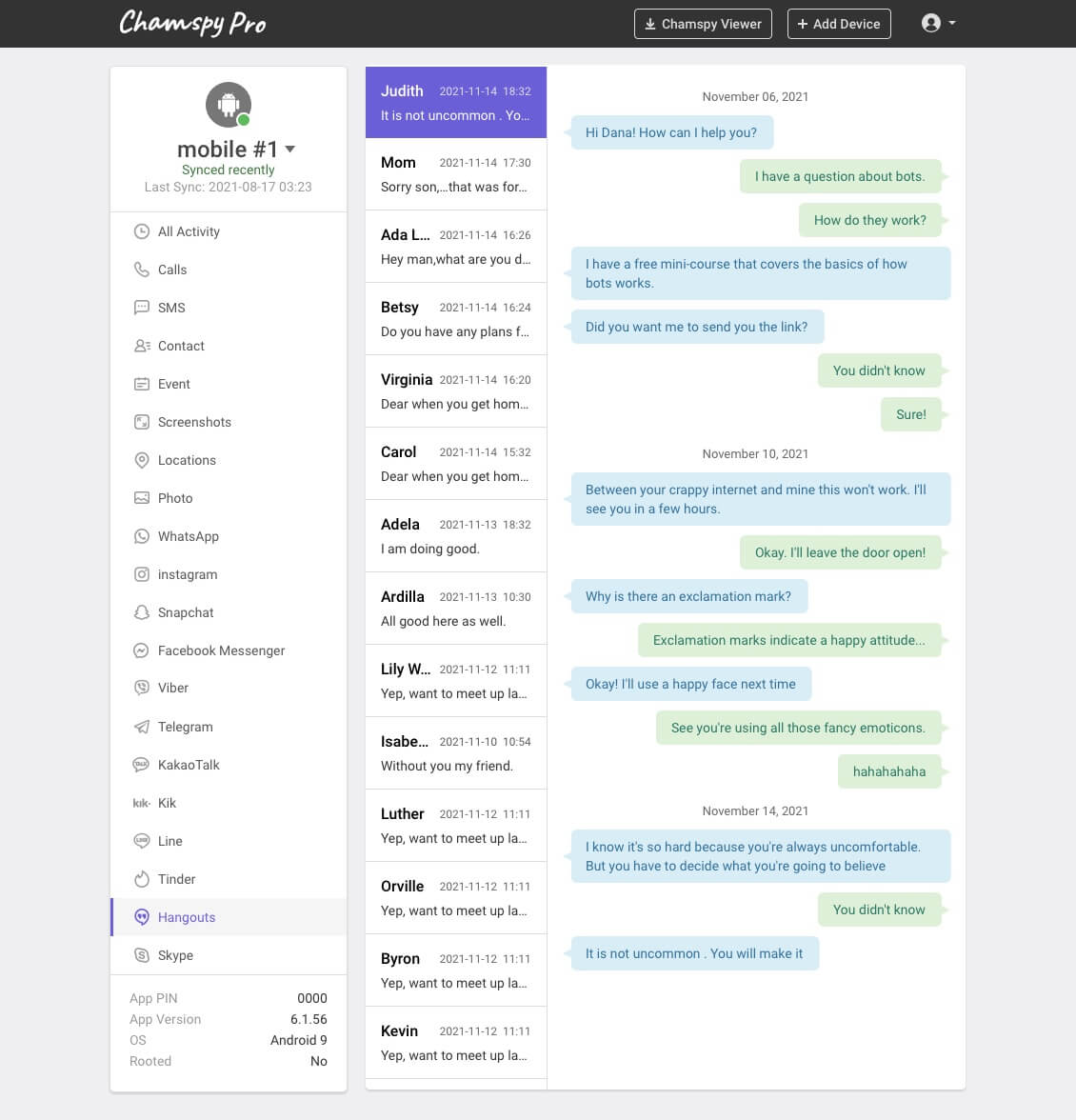 This application makes it possible to track Google Hangouts like you are watching activities with the naked eyes. It does not leave any trace on the social media app unattended, and you can monitor someone's Hangouts messenger without them knowing. To start using this feature, you can tap the "Hangouts" on the left of the navigation menu.
Why should I use Hangouts tracker?
Though Google Hangouts facilitates communication, it also comes with potential dangers such as cyberbullying, sexting, information leakage and much more. If you're concerned about these, you need a Hangouts tracking solution in your corner.
Protect your children

Google Hangouts is very popular among teens and kids due to its ease of use and convenience. It also makes it an easy target for sexual predators who may seek to exploit the innocence of kids using the app. But parents can protect your kids from such harm by using Hangouts spy app.

Protect your business

Similarly, Google Hangouts is most often used by companies to keep in touch and conduct team meetings. With Hangouts tracker, employers will be able to see if your employees are chatting with friends during office hours, leaking data or communicating with competitors. With such information, you can take appropriate action and stop potential productivity issues.
Why choose Hangouts spy app?
Chamspy Pro is the best way to see what your kids or employees are saying on Google Hangouts. It's a smart blend of ease of use and performance. Here are some common reasons why people choose this program.
Work remotely

There is no need to peep into their phones or ask them anything. Only one-time access to target device is needed.

Work in hidden mode

This application stays hidden on the target device and the user will never come to know about its existence in his/her phone.
Go beyond just Google Hangouts spy.
Once Chamspy Pro is installed, you won't just be able to track Hangouts activity. You're also given option to see what information they're sending and receiving in other social media apps. You'll be armed with everything you need to keep them safe and take appropriate action if you notice something strange.
Do I need to root the target phone for monitoring Hangouts activities?
No, there is no need to root the target device when you want to monitor Hangouts activities.