Calendar Spy - Monitor All Calendar Entries on Android Devices
Want to know what your kids are planning for the holidays? Are you worried about your employees having meetings with competitors? With Cahsmpy Pro calendar monitoring app, you can remotely check all the appoints and calendar entries on the target phone. Instantly check all meeting details without touching their phones!
How to view the booked calendar entries from monitored device?
One of the most hassle-free ways to monitor calendar activities on Android phones is using phone spy app. It gives you an insight into what is being planned by your child or employee in the near future. With Chamspy Pro, tracking every calendar activity on target phone has never been easier. Highlights include:
Supervise all calendar activities
View time, date stamps and location for calendar entry
Check description of the activity
Work in stealth mode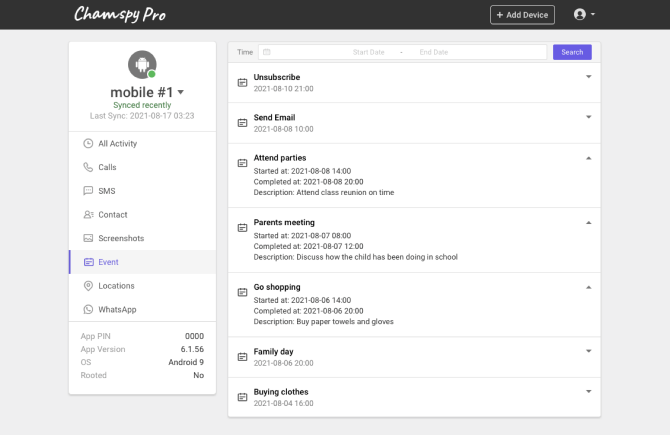 By looking at someone's day routine, you can react immediately if you disapprove this or that activity. This application runs in the background and enables you to track calendar activities without them knowing. And it will not interfere with target phone activities.
On your Chamspy Pro web account, go to dashboard, and click on the "events" tab. Then you will be able to view all the calendar entries off a monitored device.
Can I access even those calendar entries that are available on target device prior to the installation?
Yes, Chamspy Pro is the only spy phone app that provideseven those phone logs available on the target device prior to its installation. Thus, you will be able to access all the past calendar entries stored on the monitored device, even if they are a year old or two.
Why do you need to monitor calendar entries?
When you are monitoring your child or employee's cell phones, it's very essential that you look into their calendar entries as it can reveal almost everything. For parents, you will always know whether your kid plans to go to the party, concert or a meeting with a new friend from Facebook.
Similarly, you could know if your employees are having meetings with your rivals or planning to switch to a new job. You could land your company in hot water if you don't know what your employees are up to.