Block In-App Purchase - Avoid Making Unauthorized Purchases
With numerous mobile apps and games directed at younger generations, it's important to know how to prevent underage kids from making in-app purchases without your knowledge. Many programs have optional in-app purchases, and when no physical currency is being exchanged, kids can quickly rack up hundreds or even thousands of dollars in purchases. Use Chamspy Pro to avoid making authorized transaction and huge in-app charges.
What are in-app purchases?
In-app purchases are extra content or subscription that you buy inside an app and you can transfer to your mobile device or computer. Many in-app purchases are optional or offers users additional features, while others serve as subscriptions and require users to create an account and pay a fee to utilize the app.
Creating an account with the Google Play or App Store requires putting a credit or debit card on file, to cover any costs associated with paid apps. They can charge the card associated with the account directly, making in-app purchases dangerously easy to make.
How can I turn off in-app purchase?
The proven way to disable in-app purchase is to take advantage of parental control apps. They come with a wide set of advanced features that you can have a check on the mobile devices of the people around you.
Chamspy Pro work as an all-in-one parental control and digital wellbeing solution. With this app, you'll be able to view a list of apps installed on the cell phone. If you find out any inappropriate activities, you can block apps and in-app purchase. It helps avoid racking up a large bill from Apple or Android. Here's how you can enjoy its benefits:
Create your Chamspy Pro account;
Install the application following the instruction;
Log into your account and start tracking.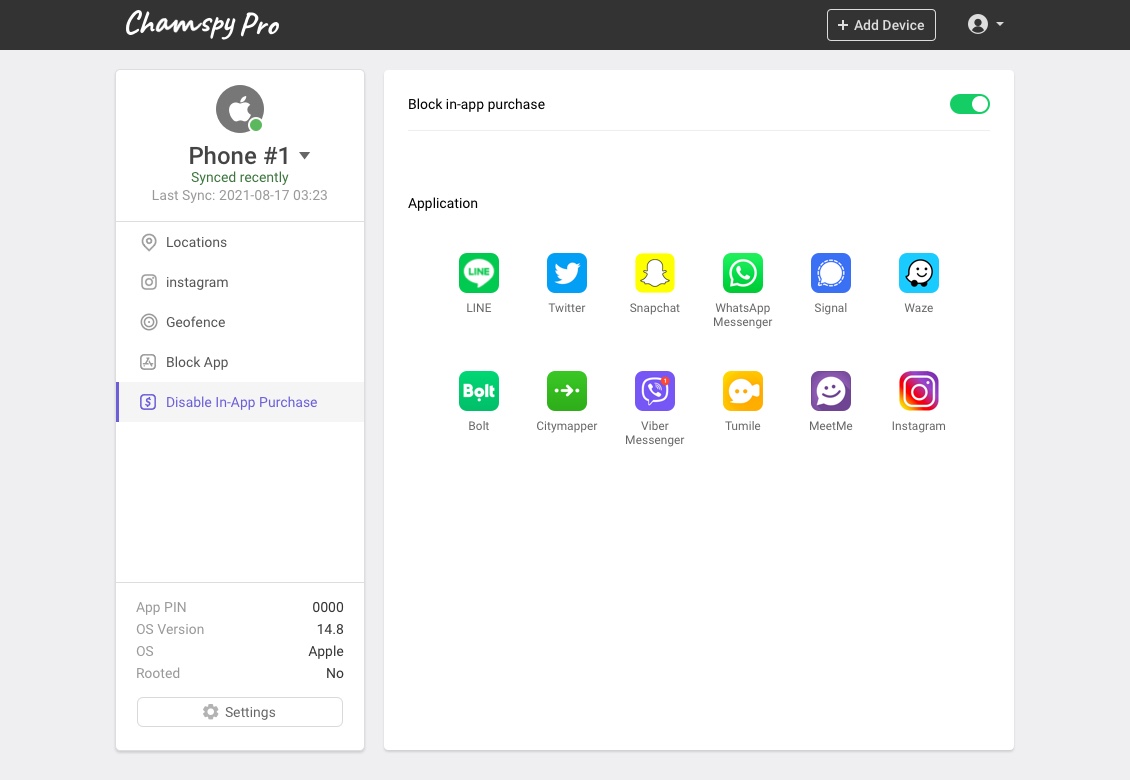 All it takes to disable in-app purchase is a few taps. Once you've log into your account, select the option from left sidebar and simply enable it. You can make sure your child can't subscribe or purchase anything within their favourite games with your money. To add a further level of security, you can also block specific apps.
Can I disable in-app purchase using inbuilt feature?
Yes, blocking in-app purchase is often finished with any phone. If your child is iOS user, you can make use of its Screen Time feature. Simply tap Content and Privacy Restrictions on Screen Time and enter the passcode. Then activate Content and Privacy, choose iTunes and App Store Purchases. From here, you can select in-app purchases and set it to "Don't allow".