SMS Tracker - Read All Sent and Received Text Messages
Chamspy SMS tracker lets you spy on text messages on Android phone. This hidden application is easy to download and install. Parents can read kids' text messages and stop worrying about your kids as you can guide them in the right direction.
Is it possible to read someone's text messages without their phone?
The easiest way to see someone's text messages is to grab their phone and scroll through it. And that might be OK if you know the password and can access it without getting caught. But if that's not possible, you will need a spying software that works flawlessly.
You can find many similar offers on the market, but a lot of them are nothing but a scam. Instead of wasting your time to review those options and go through complicated procedures, Chamspy Pro can be a solution for such a task.
How to read text messages from another phone?
Seeing someone else's text messages is possible if you take the assistance of Chamspy Pro. It allows an easy solution to read text messages from another phone in complete disguise. You'll be able to explore the routine activities of someone and identify potential dangers such as cyberbullying, scam and online predators. Many useful features comes with this SMS tracker:
Read sent and received text messages
Access deleted SMS conversations
Monitor shared multimedia files like images
Check the date and time stamps of text messages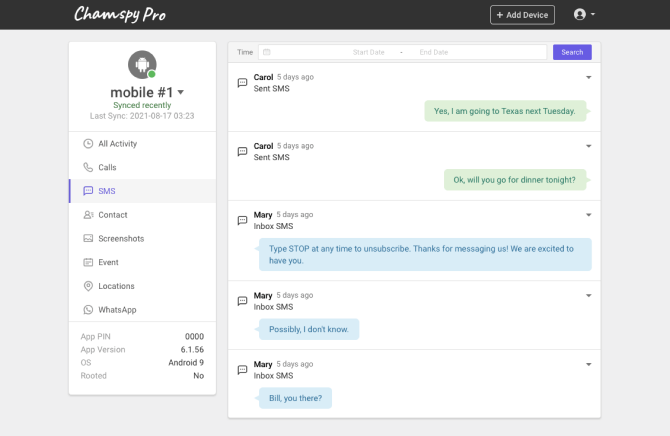 Chamspy Pro remains invisible as long as you need it to. The person won't know about the messages spy. Use this Android spy app to read text messages from another phone/tablet without fear. All it takes to monitor text messages is a few steps. Create a web account, download the text tracking app and then get started!
When a hidden SMS tracking can be helpful?
Chamspy Pro goes beyond a basic tracking app and can be helpful in several situations. If your teen's texting behavior concern you, a SMS tracker can find out what they talk about on text messages. Don't let any stranger spoil your kids by keeping their messages under surveillance.
Let's talk about your partner. If you are worried about why your loved one is typing so much on the phone, SMS tracking can help you find out the truth and clear your doubts.
The same goes for business owner to track text messages on the device provided by the company. If you think your workers aren't completing their responsibilities or wasting working time on useless things, this app can reveal such problems and increase productivity.