App Blocker - Block Access to Inappropriate Apps
All sorts of apps and content available on the App Store proves an irresistible temptation to both kids and adults, and unfortunately it's what most programs are designed for. Some of them are dangerous to kids' self development and may lead to interaction with predators, cyberbullies or other strangers. Thankfully, Chamspy Pro offers an easy way to block all inappropriate or harmful apps on another smartphone and protect kids from unwanted interaction.
How can I block unwanted apps remotely?
While the inbuilt Restriction feature in iPhone can be easily surpassed by hacking the passcode and it only restrict iOS apps. To protect your child in an all-around way, it's better to try a dedicated parental control and monitoring tool like Chamspy Pro.
It takes parental control to a whole new level by letting you block specific apps on iPhone with ease. It helps stop most common distractions and protect your kids from several online risks. Here are some important features it offers:
View the list of apps installed on target device;
Block unwanted apps including messenger apps and games;
Remotely unblock the apps whenever required.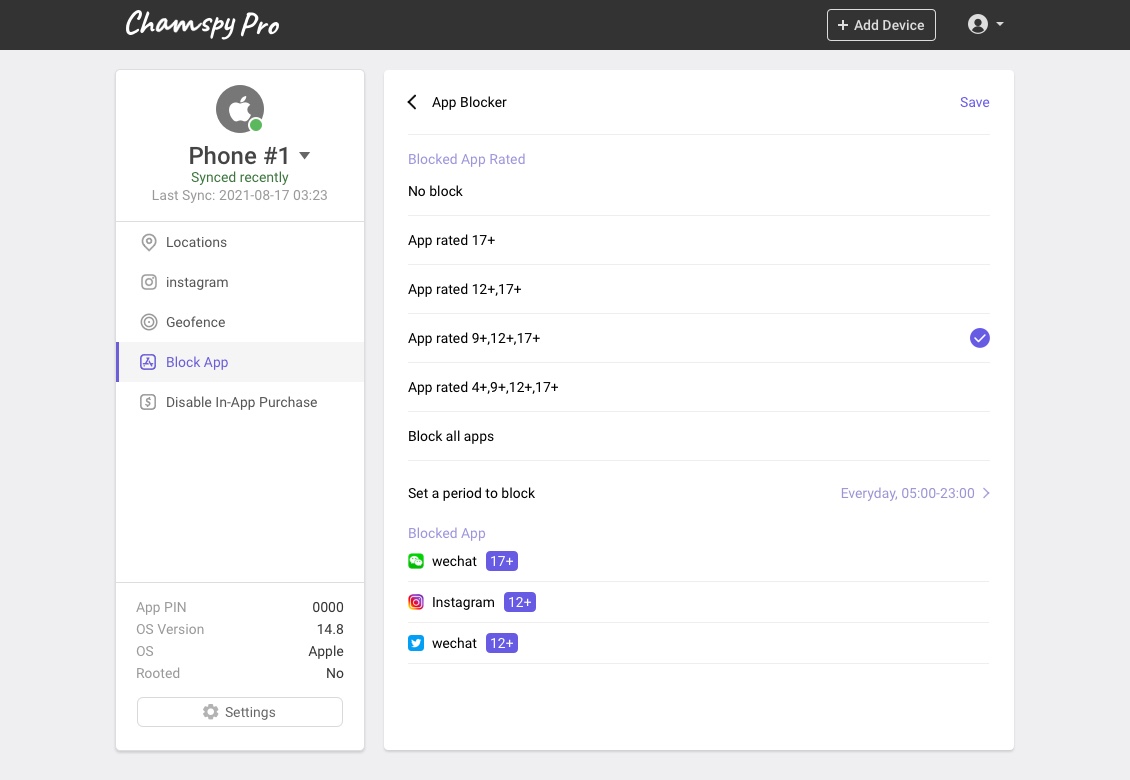 Now you can check know which apps are installed on the smartphone. If you find out any suspicious activities, you can simply block those apps that may contain inappropriate content or promote harmful behavior to youth. You can make sure your children won't use the apps while sleeping, doing their homework and so on.
Can I block apps on iPhone using inbuilt features?
Apple's Screen Time feature allows you to block or limit specific apps and features on your child's device. However, this setting is only applicable to inbuilt iOS apps and can be easily bypassed by tech-savvy children. Even if they don't have the passcode, they can factory reset the phone and erase all existing restrictions.
Can I unblock the blocked apps?
Yes, you can use the same button to unlock the app. No technical skill is required to use this feature.
When will you find this feature helpful?
With numerous entertaining apps available, it's hard for both kids and adults to stay productive. You may find kids who use their cell phones before going to sleep have difficulty with sleeping as the screen glow from these mobile devices hinder the production of melatonin.
Even worse, if your tween or teen child is using the cell phone without parental supervision, you could be risking them to various online risks such as cyberbullying, sexting and online harassment.
If you can block unwanted or inappropriate apps installed on the smartphone, kids can focus on homework and other important tasks. You can also protect them from accessing inappropriate content and unwanted activities.
What kind of apps you need to block?
Now that you know how to block access to apps on iPhone, it's important to know what kinds of apps you might need to block.
Messenger apps - These applications are designed to ease communication but bullies, predators and scammers can exploit these platforms to target innocent kids. Inappropriate content can also be transmitted through these popular applications.
Games - Kids who spend a lot of time on video games can negatively impact social and physical health. It robs kids of the opportunity to practice their social skills and to move their bodies from one house to another.
Those playing violent video games show decreased activity in areas of brain dedicated to self-control and an increase in emotional arousal.
Dating apps - In some cases, users might be required to provide identification and prove their age. But for the most part, apps don't really do much to verify a user's age. It could be dangerous if you underage child is using dating app, because online predators often infiltrate dating apps in seek of unsuspecting victims.