Phone Location Tracker - Find out Where Your Loved Ones Are
The increasing cases of kidnapping and missing children makes parents worried about their children's safety and it does bring a wide range of challenges to parenting. Chamspy GPS tracker is here to ease your concern and make parenting task simpler. Use Chamspy Pro to protect your loved ones when you are not around and ensure they don't go anywhere they shouldn't.
Why do you need GPS phone tracker?
It's a good idea to invest in a GPS phone tracker as it offers numerous benefits. Parents can know if your teens are trespassing into dangerous neighborhoods. If your child sneaks out at night, you could use location tracker to take care of that. Similarly, a lot of businessmen are tracking the current location of their employees as it helps them prevent their employees from engaging in dishonest practices during work. Married people can share location with partner and help improve the quality of communication.
Get peace of mind and keep your child safe with cell phone tracker.
If you want to know how to track someone's location using a GPS phone tracker, you're on the right page. Many apps online offer you the service for free, chances are that they're just offering you malware with the end goal of stealing your personal information. While Chamspy Pro can serve as an effective location tracker and strike a balance between freedom and safety.
This iPhone tracker is the perfect blend of ease of use, compatibility and performance. It works with the modern iOS device and you can set it up without any hassle. It's packed with features including:
See current location on the interactive map
View location details such as date and timestamp, coordinates
Check the location history over a specific interval of time
Set safe zone and receive alert if they leave a designated location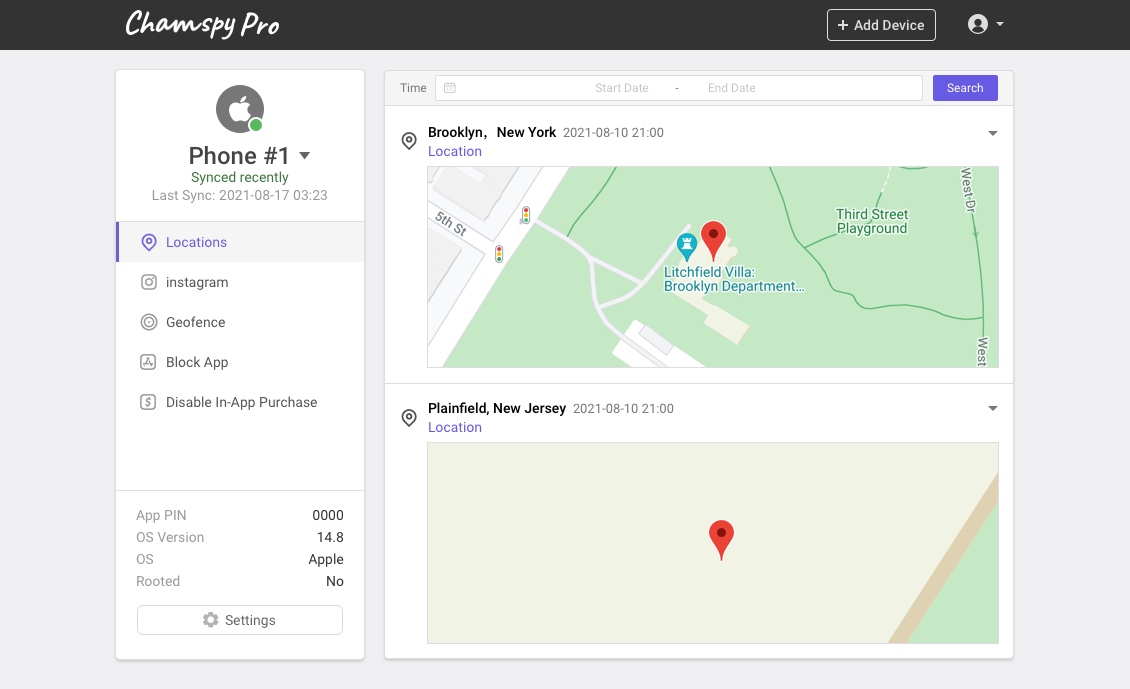 Once installed, you'll be able to spot the person on the map and know where they are and have been. You can be confident that your kids are staying in an area that you approve of. It puts your mind at ease as well as allows children to roam freely and enjoy life.
If a phone gets lost or stolen, location tracking feature allows you to keep tabs on where the phone and its user are, making sure that the phone doesn't fall into the wrong hands. It also helps recover personal data and keeping information secure.
How do I use a phone location tracker on the smartphone?
Simply create your online account and install Chamspy Pro on the device. Once you set it up, you can track their phone from your own device by logging into your account.
Can I track cell phone location in real-time?
Yes, Chamspy Pro can track the precise location in real-time if there is a strong internet connection available on the monitored device. It should be noted that a new location will only be registered if there is a displacement on the tracked device. If the device isn't moving, Chamspy Pro will only register a single location stamp.
Can I contact cell phone service provider to ping my child's location?
Yes, as long as you're an authorized user. Also, depending on your operator, tracking a phone location might require layers of approval. If you have a cell phone tracker, you can cut out the middleman and find out the location yourself.
Why Chamspy Pro is the best app to track someone's location?
GPS location tracker comes in handy if you're trying to keep an eye on someone's whereabouts. It works with any Android or iOS devices and you can unlock both basic and advanced features for free. Here's are some reasons why people choose Chamspy Pro:
Ease of use

With user-friendly interface, users can make full use of this GPS phone tracker app. From the quick installation process to use the application, it couldn't be easier. You can download Chamspy Pro directly on your iOS device.

Precise location

Combined with GPS tracking system and WiFi access, Chamspy Pro can track the exact location of the target user. You can view the real-time location on the detailed map at any time.